An innovative fleet safety and performance solution
RoscoLive and the DVXC4 vehicle HD continuous recording camera offers security for your drivers and fleet. The DVXC4 automatically and continuously records while the vehicle is in operation, with the option to do so while the vehicle is off with parking mode enabled. The device also has its own internal high-capacity, scalable memory for retrieval of Event and non-Event "continuous video" for further analysis when required.

Built tough for the commercial
fleet environment
Protected by two proprietary physical key locks and gear lock, these locks prevent access to SD card memory, angular adjustments/tampering, and power connections. The DVXC4's also has lead ratings for temperature, shock, and vibration.
Transforming fleet management with RoscoLive
RoscoLive's user-friendly interface lets you manage your fleet wirelessly and in real-time.  See where all of your vehicles are in real-time, using a single interface with full Google Maps functionality. Receive alerts as Events occur, flag incident footage, and have access to crucial snapshots and live-stream video. GPS tracking, live-streaming video, and customized reporting are also available.
Remote device management
4G LTE capabilities allow for easy management. Firmware updates, accelerometer sensitivity,
g-Force settings, and other configurations can be done remotely. Remote SD card formatting is also available with RoscoLive and a 4G LTE connection.
Give your data endless possibilities
Cloud Storage is available with a 4G LTE Plan – fully tested and certified by AT&T, T-Mobile, Verizon, Bell, and more. You'll never have to worry about the loss of critical data due to SD card storage limitations.  Utilize the the automatic upload setting to see videos of incidents just minutes after they occur on RoscoLive.
Go to online store
Download brochure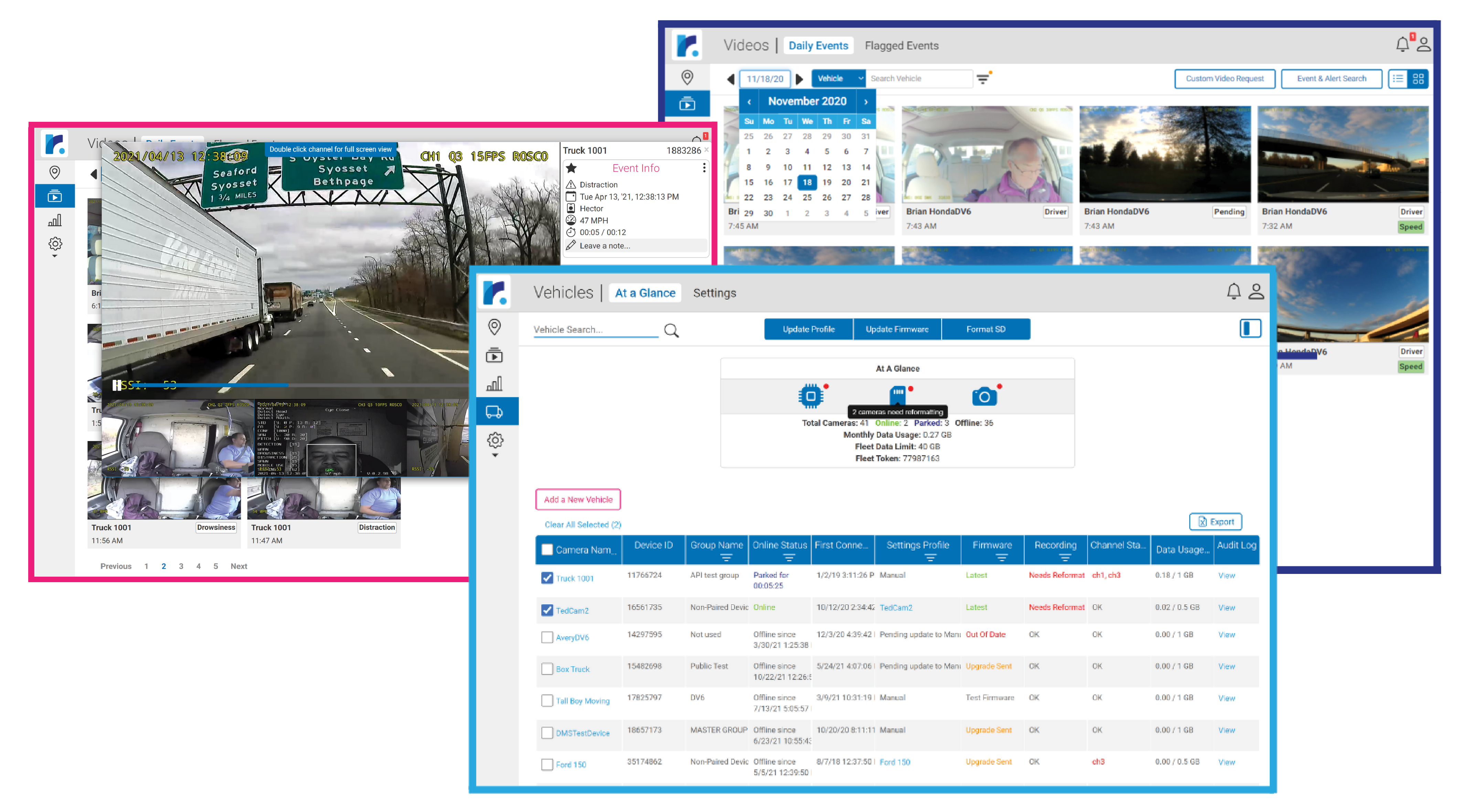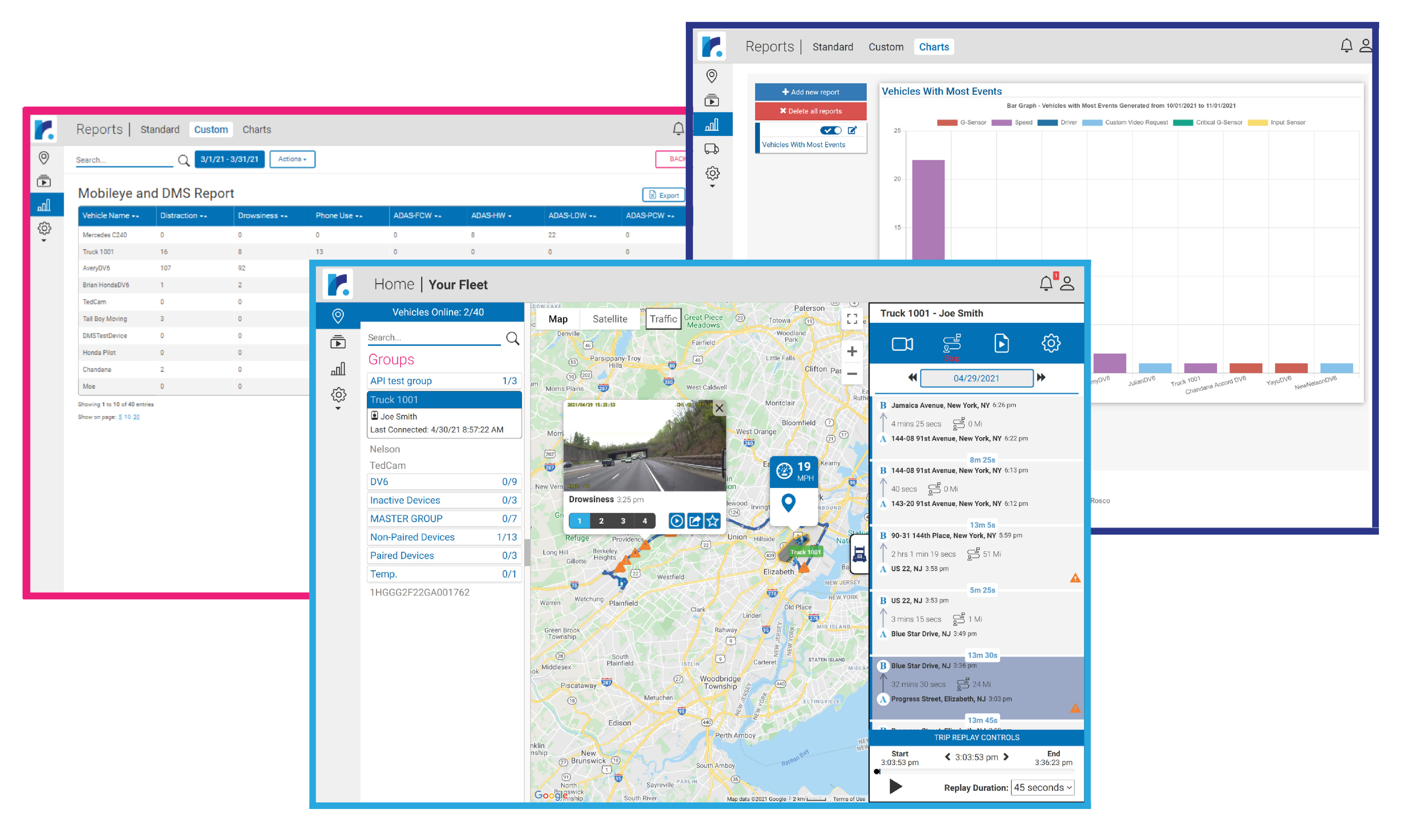 Live tracking & streaming
RoscoLive offers fleet managers the ability to live track and trace all fleet vehicles. With 4G LTE and RoscoLive, always know where your drivers and vehicles are. Fleet managers also have the power to request and download real-time videos. Receive live alerts on the RoscoLive dashboard from events triggered by pre-determined limits set on the DVXC4 device.
Reporting
With custom reporting, RoscoLive analytics help to inform fleet managers where their drivers and fleets need improvement, thus helping to inform business decisions. As a result, fleet managers can coach and improve the overall operational efficiency of their fleet.
Telematics integration
RoscoLive can seamlessly integrate with third party telematics software to apply the power of video to your existing fleet management platform.
Go to online store
Learn more
Compare the DV4 to the new version, the DV6
Rosco's Dual-Vision® XC4 has the capacity to identify unsafe driving behavior through its ability to continuously record video and provide instant driver feedback when an event occurs.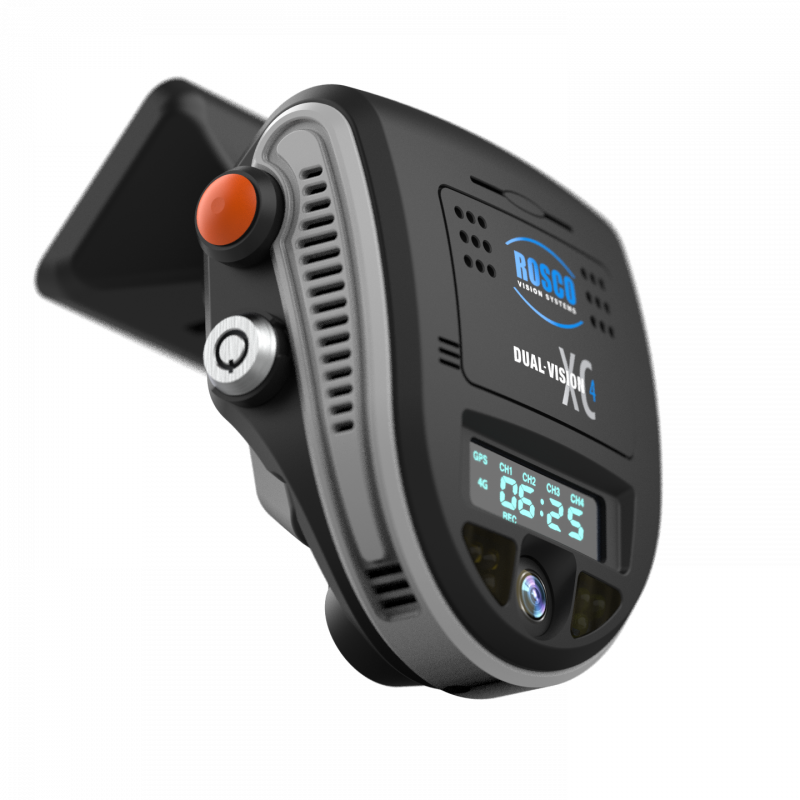 DV4
Includes 128GB SD with DV-PRO® 5 software Fleet Database Management System (up to 512GB local storage).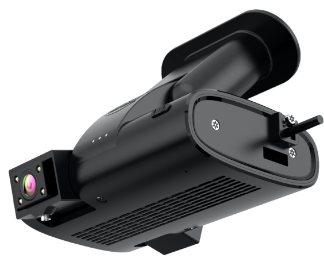 DV6
Includes 64GB SD with DV-PRO® 5 software Fleet Database Management System
# of Cameras
2 (expandable to 10)
2 (3rd coming soon)
Dimensions
3.7" x 4.13" x 2"
5.08" x 2.41" x 4.01"
Camera specifications
C1: 720p | C2: 960H
C1: 1080p | C2:1080p
Camera viewing angles
C1: 135°Dia | C2: 160°Dia
C1: 116°Dia | C2: 116°Dia
G-Sensor
built-in-3-axis accelerometer
built-in-3-axis accelerometer
Audio
internal microphone for C2
internal microphone for C2
GPS
built-in GPS w/ antenna
built-in GPS w/ antenna
DMS AI alerts
available with DM100 addition
built-in
Driver event button
built-in / external
built-in
Adjustable video quality
yes
yes
Adjustable frame rate
yes
yes
Light sensor & IR LEDs
yes
yes
Modem
external mini router
built-in
Local storage
SD (up to 512GB)
micro SD (up to 1TB)
RoscoLive connectivity
optional
required
ADAS
add-on availability
no
Driver ID
requires separate hardware DR101
QR-code scan via DV6 front camera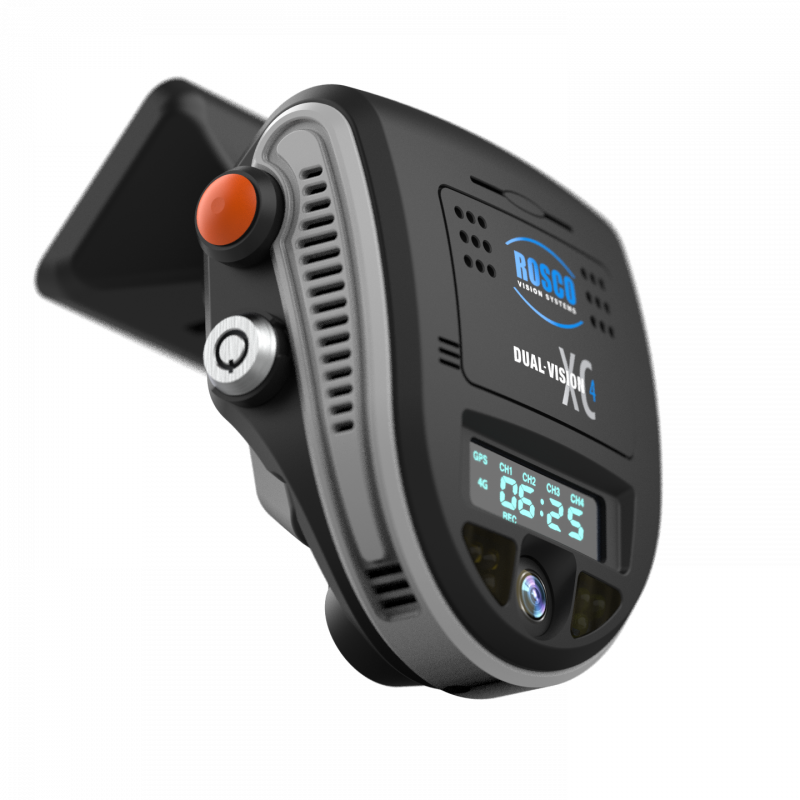 DV4
Includes 128GB SD with DV-PRO® 5 software Fleet Database Management System (up to 512GB local storage).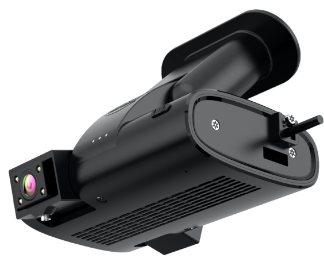 DV6
Includes 128GB micro SD and up to 1TB local storage. Integrated CAN Bus with built-in modem.
Dimensions
3.7" x 4.13" x 2"
5.08" x 2.41" x 4.01"
Camera specifications
C1: 720p C2: 960h
C1: 1080p C2:1080p
Camera viewing angles
C1: 135°Dia | C2: 160°Dia
C1: 116°Dia | C2: 116°Dia
DMS AI Alerts
available w/ DM100 addition
built-in
Modem
external mini-router
buit-in
Local storage
SD (up to 512GB)
micro SD (up to 1TB)
RoscoLive connectivity
optional
required
Driver ID
requires separate hardware DR101
QR-code scan via DV6 front cam